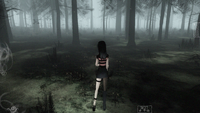 The
forest
is a location in
The Path
. In the game, once the player received control of one of the sisters, they are given the option to stay on the
path
, or stray from it. Straying from the path will lead he or she into the forest, where they may meet
the Wolf
. There are seven landmarks in the forest, each one (barring Grandmother's House) being pivotal to each girl's journey through the forest.
It is notable that there are many things in the forest that would normally not be there, from a shopping cart to a television set. Interacting with these items in the forest adds to what is available in Grandmother's House, ranging from simple items appearing in the house (i.e. an urn, a mirror, etc.) to entire rooms (i.e. the birthday room, the gymnasium, etc.).
Landmarks
Edit
Below are listed landmarks and which Wolf appears in these locations for who.
It matters at what point you stray from the path - when you go into the forest on the beginning or on the end of the path, the atmosphere is different.
Ad blocker interference detected!
Wikia is a free-to-use site that makes money from advertising. We have a modified experience for viewers using ad blockers

Wikia is not accessible if you've made further modifications. Remove the custom ad blocker rule(s) and the page will load as expected.